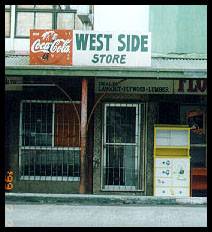 It is known that Leonard Bernstein, Stephen Sondheim and Jerome Robbins created in 1955 a fantastic musical about Puerta Ricans who settled on the extreme west side of New York.
However, it is not popularly known that these three visited the Philippines (particularly San Juan), and put up a store to capitalize on this musical.
Yes folks, this store near Broadway, was supposed to sell items and knick knacks about the musical, hoping those that see the musical will purchase from the store. Little did these three know that during that time:
The musical was not shown at all in the Philippines
The Broadway they thought it was near to was not the Broadway in New York, but Broadway Centrum
However, due to the ingenuity of the three, they decided to convert the store from a musical-items store to a sari-sari store. And since around 1960, the store has been raking in the profits. We hope.
So, if you're ever in Broadway (Centrum), and you have an urge to buy Kendi, check this store out. Who knows, you might see Maria....(the name of the lady who minds the store)
Disclaimer: What I have just mentioned in this write up are all blatant lies. Yes, folks, they are not true. Jerome, Leonard and Stephen have never sold musical-related items in the Philippines, let alone put up a store. This is for humor purposes only. And if my write-up was so realistic that you honestly believed it, then there's honestly something wrong with you.
---
About Us
List All Stores
News
Send eCard
Store Map
Submit A Store