About Us
List All Stores
News
Send eCard
Store Map
Submit A Store

Wanna tell us something?

Make more friends-
Send an eCard!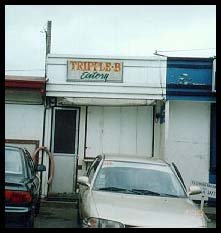 Sigh.
Just finished our long Holy Week vacation. Did nothing, which suited us fine, since we didn't want to do anything. Which is partly the reason why the Store of the Week is late. (We're very sorry, really!) Anyway, things are picking up slowly, but fortunately, we haven't ran out of stores yet.
Okay, the store this week is a big mystery to us. We don't know who owns it or what it stands for. Here are some of our intelligent guesses, which took us all of 5 minutes to come up with:
Bobong Belez owned
Bic-Bic Billabicencio owned
Bery Bad Bistro
Bentahan ng Beef at Baboy
Big Big Boy, the bigger branch than the one in Fort
That's all we could think of. However, if you do know what it stands for, or you may also have your intelligent guesses, send them in, and we'll be glad to feature it next time!
Happy Easter folks!
---
About Us
List All Stores
News
Send eCard
Store Map
Submit A Store