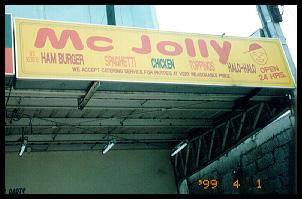 This week, we'll be talking about something that's always been a long-standing problem. Yep, where to eat fast food.
Oh sure, there tons of fast food places to eat at, but the two that are always in the heat of battle are none other than our favorites - Jollibee and McDonald's. People are always arguing:
"Masmasarap ang Champ!"
"Hindi, masmasarap ang Big Mac!"
"Hindi, masmasarap ang Aloha!"
"Anong Aloha, Aloha? Quarter Pounder yata, mas-sosyal!"
"Ah Basta! Jollibee pa rin ako!"
"Aba bahala ka! McDonald's pa rin!"
Well folks, argue no more. An enterprising enterpreneur in Sucat has just come up with the solution to all your fast food problems. Now, you no longer have to worry about which fast food joint is better. You can have a Big Champ, a Regular Yum Pounder, and a Peach-Mango-Apple Pie! So whatcha waiting for? Come on in!
---
About Us
List All Stores
News
Send eCard
Store Map
Submit A Store