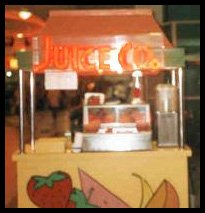 Holy cow! I mean, like a real holy cow! This store really blows you away!
It's so fantastic, it's so mind-boggling, it's so interesting, it's so shocking, it's so surprising that it'll really knock your socks off!
And why, you may ask?
Well, I have an answer for you!
Yes, I have an answer for you!
Hold on...the answer is coming...
Just a few more seconds...
Dang! Okay, so I don't know why this store is shocking. I'm not a god or anything you know. I'm not omnipotent or all-knowing. What do you expect? I'm just a website developer...give me a break!
But let's get back to the store at hand. Well, for some unknown reason, this store can really shock you. In fact, just saying it's name is shocking - JuiceCo! JuiceCo! JuiceCo! (Get it?)
The next store will hopefully come out on November 30, 1999.
---
About Us
List All Stores
News
Send eCard
Store Map
Submit A Store