About Us
List All Stores
News
Send eCard
Store Map
Submit A Store

Wanna tell us something?

Make more friends-
Send an eCard!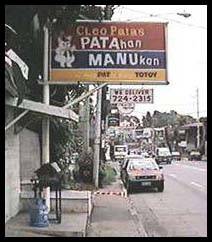 It is well-known that the ancient Egyptians worshipped cats because they minimized the rodent population in Egypt's grain fields along the Nile river. In fact, cats were so revered that they were mummified and buried either with their owners or special cemeteries.
But, before I bore you to death, I'll quit with the history lesson. However, did you know that pork also held a special place in Egyptian's hearts, particularly with the Egyptian Queen, Cleopatra?
In fact, she liked pork so much that she built a restaurant specializing in Egyptian Pork. Yes, you heard me, Egyptian Pork. Found at Wilson st., San Juan, this restaurant specializes in crispy pata, chicken and the very special crispy ulo...
So those Egyptians out there, or those people who like Egyptian food, or those who are mummy's boys (get it? mummy - momma? Oh, well, never mind.) Anyway, come on over and feast on delicacies fit for (pata) queens...
---
About Us
List All Stores
News
Send eCard
Store Map
Submit A Store